Hermes Case Study.
Hoot Fire & Security is installing a roll out of Panasonic security technology across the majority of Hermes UK warehouses to improve parcel processing and maintain customer reputations.
Hoot Fire & Security have been working closely with Hermes to roll out an end to end, high quality security system across their 27 distribution depots.  One of the latest sites to receive the unique CCTV security solution is the new warehouse at Hemel Hempstead. Read our case study to see how Hoot Fire & Security helped Hermes deliver door to door success here.
Chris Brown Hoot Fire & Security Director said "it is always rewarding to deliver above and beyond our customers' expectations. We are vastly experienced at working in the logistics sector and can offer tailor-made solutions for our clients."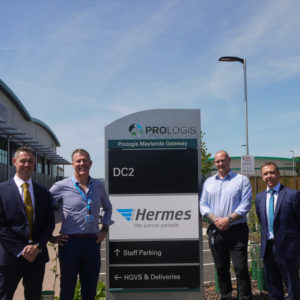 Our leading integrated CCTV security system has several benefits for Hermes including as a theft deterrent, for parcel tracking and additionally for improving health & safety.
"Overall, the system provides a really good solution from a health and safety perspective, and we have even won business due to the quality of our security systems which impresses our clients." John Ferguson, Head of Loss Prevention, Hermes
Click to read the case study – Hermes Delivers Door to Door Success. Hoot Fire & Security is a specialist in security systems for logistics industry, please contact us to see how we can help your business.
HERMES CASE STUDY
Download a pdf version of the Hermes Case Study
Discuss your security needs
Please give our friendly team a call on 01623 753 782 to discuss your security needs or drop us an email.